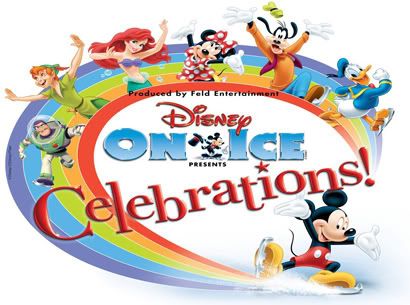 Last night we went to Disney On Ice presents Celebrations! at the Patriot Center in Fairfax, VA and had such a good time. The girls were on the edge of their seats throughout the entire performance, which lasted just under 2 hours, including a short intermission.
Maura saw all her favorite characters from Mickey Mouse Club House, including Mickey, Minnie, Donald, Daisy, Goofy, and Pluto. Maya was mesmerized by all her beloved Disney princesses, including Cinderella, the Little Mermaid, and Snow White. She was even introduced to a few new ones – Mulan and Tiana – that she wants to learn more about. The princesses play a big part in the show!
I'll certainly consider taking the girls to Disney On Ice again when they come back into town next year. For now, the show will be here in Northern Virginia through the rest of the weekend, and several other shows are touring all over the United States. Remember to use code: MOM when you buy your tickets for a special discount. Read my previous Disney On Ice post for more details!
Check out my Flickr album to see bigger versions of the photos above (and more)!
I'm participating in the Feld Family Activator program, organized by Mom Central on behalf of Feld Entertainment. I was provided with complimentary tickets to a Disney On Ice show for taking the time to participate and promote the discount.