Ever since I was pregnant with my first child, I've made the effort to forgo traditional chemical household cleaning products as much as possible, preferring to make my own concoctions with vinegar, baking soda, lemon juice, and a variety of natural oils. Sometimes it works well, but other times I revert back to conventional cleaning products because it's more convenient.

I was recently introduced to E-cloth, made by TADgreen, Inc. This may look like any ordinary cleaning cloth, but it's not. It's so much more! E-cloth provides you with a whole new way to clean – with just water. Your first thought might be – no way! – but yes, it really works! The state-of-the-art manufacturing process that goes into making the fabric for the E-cloths is what makes all the difference. Only the highest quality micro-size polyester and polyamide fibers are used, and they are split with special machines that then create super-fine razor sharp edges which gently scrape the surface you're cleaning.
Why use E-cloth, you ask? First off, it is good for your home and the environment. Since E-cloth only uses water to work, it reduces the toxicity in your home. Secondly, it'll save you money! Household cleaning products are expensive! E-cloth could potentially reduce your use of chemicals by up to 80%, resulting in a huge savings. And what do most people use to wipe down their counters? Yep, paper towels. These aren't cheap either, AND they're not recyclable. E-cloths are reusable and washable up to 300 times, so this could save you from using 40 rolls of paper towels a year, and all the money that would go along with that.
If every home in America used E-cloth as their main method of cleaning, we'd reduce our landfill use by 1.6 million tons AND save over $50 million on the costs of disposing of all that trash. Those are incredible numbers!
I tested the bathroom pack, which comes with a spray bottle, one Glass & Polishing cloth, and a Sponge cloth designed specifically to handle extra thick dirt and absorb large amounts of water. I can't stand to use harsh chemicals when cleaning my tiny bathroom, because I feel there's not a lot of air circulation and I'll pass out from the strong smell. Okay, that's a little bit of an exaggeration, but I do get a bad headache! That's why I was so happy to try this new chemical-free method!
To clean the tiles surrounding the bath tub I used the sponge cloth, dampened with water. It definitely takes a little elbow grease, but I could clearly see a difference when I was finished scrubbing. For best results, the cloths should be used regularly. A quick wipe after each bath or shower seems completely doable, since I'm already in there anyway!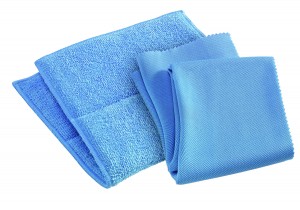 The Glass & Polishing cloth has to be my favorite product! With just a few swipes of the cloth my mirrors and faucet were left sparkling. I did this late at night when the girls were in bed, but then it hit me – I could have my 4-year old help me out with cleaning now! I've been trying to get her to do a few chores, and using the E-cloth to clean mirrors and windows might just be the right start. She'll have a blast spraying the water bottle!
For day-to-day use, E-cloths only need to be rinsed in warm water. Otherwise, machine washing or boiling them regularly is all it takes. If they're cared for properly, E-cloths could last for years!
In addition to the Bathroom Pack, E-Cloth offers a variety of cleaning solutions for the entire house and workplace, including:
Glass & Polishing cloth, which removes light grease and dirt with no scratching –it's ideal for getting clean, streak-free windows and mirrors, and eliminating smearing and fingerprints from stateless steel and chrome.
General Purpose cloth, which is made for removal of thick grease and dirt-capturing bacteria. Perfect for stainless steel, granite, laminated counter tops, glass, chrome and wood.
Kitchen Pack, which includes both a general purpose and a glass & polishing cloth for keeping kitchen surfaces and appliances clean of bacteria, fingerprints, discoloration, and mold – without chemicals.
All these items range in price from $9.98 for a single cloth, to $17.98 for a pack, and can be purchased directly from the E-cloth website.
One of my readers will win an E-cloth Bathroom Pack! It'll make tackling the dreaded task of cleaning the bathroom a little easier. To enter, visit E-cloth, then come back to this post and leave a comment telling me what cleaning issue you struggle with the most.
Please leave a separate comment for each entry and leave a valid email address or blog URL in your comment. Open to U.S. and Canadian residents only. This contest ends at 11:59 pm EST on March 1st, 2009. Winner will be chosen at random, and has 48 hours to claim their prize.