FurReal Friends have been the hot toy for years now. I love that they come in all shapes and sizes, with something to fit every budget. My daughters were sent a FurReal Friends Newborn Kitten to play with, the smallest in the line of robotic pets.
After taking it out of the box, inserting the batteries, and turning it on (there's an on/off switch in its belly), it was ready to be played with.
All I can say is that it had us at meow!
Maya named the kitten Kitty. How original, right? To wake her up, you pat the soft fur on her back. She then starts meowing, slowly opens her eyes and moves her head. Pet her more and she'll become livelier and even begin to purr. Keep petting her, and she'll relax until she falls asleep again.
FurReal Friends Newborns cost between $10-15 and are recommended for ages 4 and up, although baby's not even 2 years old and has officially adopted Kitty as her pet! The kitten requires 3 AAA batteries to operate, and when she moves her head, she makes a bit of a robotic sound. That's the only thing I didn't like about it, but my kids don't mind it at all. This kitten has been played with constantly for almost 3 weeks, and is showing no signs of battery wear. She looks delicate, yet she's been stepped on and thrown on the floor multiple times, and still works perfectly.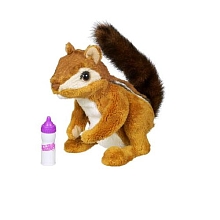 FurReal Friends Newborns are sold on Amazon.com, at Toys 'R Us, Wal-Mart, and other major retailers nationwide, and at the Hasbro Toy Shop. If your child isn't a cat person, there are tons of other newborn animals to choose from: a duckling, chimp, piglet, lamb, and several puppies and bears, just to name a few.
One of the newest animals to join the collection is the FurReal Friends Newborn Chipmunk. It makes the most adorable little baby chipmunk sounds, flicks its tail, and even comes with a bottle so you can "feed" it!
FurReal Friends Newborns are a purrrfect gift for any kid!