I try to make Easter as candy-free as possible, and with so many adorable spring-themed items out there, it's super-easy! My girls can't read, but they can see the pictures, so I have to hurry up and write this before they come around to see what I'm up to!
FurReal Friends Teacup Pup
We don't have any pets, so my girls get especially excited with toys like these!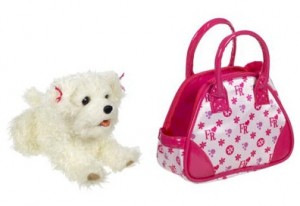 FurReal Friends are the next best thing to a real pet, since they move and make realistic animal sounds. You might remember the FurReal Friends Newborn Kitty we "adopted" back in December. It's been very much loved these past few months, and I have yet to even change the batteries! Something I'm really impressed by in a robotic toy.
This week we added a FurReal Friends Teacup Pup – a maltese – to our collection, and I can just imagine how much my girls will love it as well. This cute little dog comes with a carrier and an adoption certificate. Its head moves, eyes open and close, its front legs bend to allow it to sit up or lie down, and it has a very realistic little bark. If you pet it enough, it falls asleep and even snores for a bit before turning itself off! Like other FurReal Friends, it does make a bit of a robotic sound when it moves, but somehow the cute factor helps us tune that out. I really love the carrier it comes with. The print reminds me of a Louis Vuitton 'Sac Chien' but in brighter colors, not that my girls would know anything about that! It's very well made, with satin on the outside and vinyl details, and even has a restraint inside to keep the dog in place.
FurReal Friends Teacup Pups can be found at your local Target, Wal-Mart, Toys "R" Us, Kmart, Kohl's, Walgreens, and on Amazon.com for around $20 (Amazon inflates the price a bit). They require 3 "AAA" batteries, which are included, and are suggested for children 4 and up, although I think a 2-3 year old would appreciate a toy like this, too. Since the Pups don't do much other than move their heads and bark, I could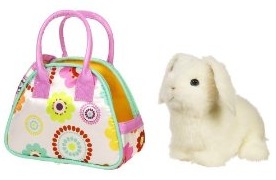 see them being a little boring for the older crowd, but there are plenty of other FurReal Friends that are more interactive. If your child has a big imagination and you'd like an electronic toy that doesn't have too many bells and whistles, the Teacup pets and Newborns are a good choice, though!
New to the Teacup line (and just in time for Easter!) is the FurReal Friends Teacup Bunny. It makes bunny sounds and moves its head in response to touch and also comes in an adorable carrier that any little girl would love to tote around!
PLAY-DOH Characters and Spring Eggs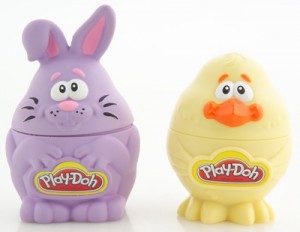 Back in December, one of the items I put in my girls' Christmas stockings were PLAY-DOH characters. A snowman and a Christmas tree filled with PLAY-DOH compound and with built-in stampers to create fun designs. It's now almost 4 months later and they still play with them! I was thrilled to find that PLAY-DOH also has springtime characters, perfect for an Easter basket or a rainy day surprise. Each set retails for only $1.99, and comes with two cute chick and/or bunny-shaped containers, both filled with two ounces of springtime-colored PLAY-DOH, that also come with stampers to create adorable baby chick or carrot designs!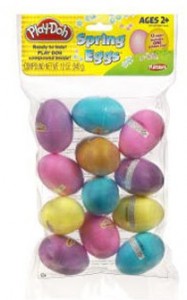 If you want to be the hit of your neighborhood Easter egg hunt, I highly recommend the PLAY-DOH Spring Eggs. When you want to fill your child's basket with something other than candy, this is a great option. You get one dozen eggs, each filled with one ounce of colorful PLAY-DOH. The set even comes with one golden egg that you can use to create your own twist on the hunt. With the suggested retail price of $3.99 for a dozen eggs, the price is not far from what the real thing would cost! You can find these and other PLAY-DOH products at your local Target, Wal-Mart, Toys "R" Us, Kmart, Kohl's, Walgreens, CVS, Rite-Aid, and on Amazon.
Hide 'Em & Find 'Em Eggs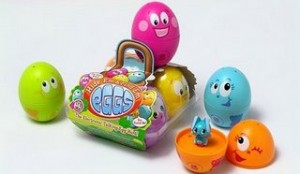 I actually won these a couple of weeks ago from Time To Play magazine. If you've never visited this site, you need to! It's a great source for wonderful reviews and recommendations on the hottest new toys, video games, electronics, and accessories on the market. But back to the eggs.
The Hide 'Em & Find 'Em Eggs have advanced electronics that make an egg hunt truly interactive! Mom or Dad starts the fun by pushing the On/Off button on each egg, and hides them. The eggs will talk, laugh, and make silly noises as your child tries to find them. When you twist the egg open, you'll find a little surprise – a cute bunny or baby chick that says, "Surprise, You Found Me!" There's even a room to put some jelly beans or little treats in there as well. The eggs come in six colors and say five different phrases – including "I'm Hiding" and "I'm Over Here!" – and three different sound effects. They'll automatically shut off after 30 minutes in case they're not found by then. The only thing I don't like about them is that the batteries are non-replaceable. I'm hoping they'll last long so we'll have lots of hide-n-seek fun for days and weeks to come! I just saw them at Target last week, sold individually and in packs of 4, and you might also be able to find them at Wal-Mart and Rite Aid. Made by Techno Source, a 4-pack retails for $14.99.
Easter card and barrettes from Bugalug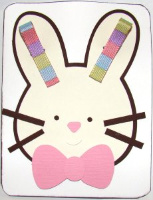 Bugalug has expanded their product line to include some charming handmade Easter cards like this adorable bunny card that I have put away for Sunday morning! It has slots so you can clip two of Bugalug's famous barrettes onto the bunny's ears (they have to be bought separately). The inside of the card is blank so you can write anything you want, or you can even have it sent directly to the recipient, and the lovely ladies at Bugalug will handwrite a personal message of your choosing. They also have an Easter basket card, but if you're looking for something not holiday-focused, there are other cute options perfect for spring – butterflies with barrettes as wings, for example.
* * * * * * * *
Besides the obvious fact that none of the above items involve sweets, I also love that all these products will get lots of use long after Easter is over! Here are a few more fun ideas:
Watercolors or crayons and a small Easter or spring-themed coloring book
Easter-themed stencils
Gardening tools and seeds
Sidewalk chalk, like this set, to the right, from Vat19
Bubbles (always a hit!)
A toothbrush. It's great to give one for every major holiday since they should get a new one every few months anyway.
And for the littlest ones – teething toys, rattles, a bib, and stuffed bunny.
Hoppy Easter!! What's in your child's basket?