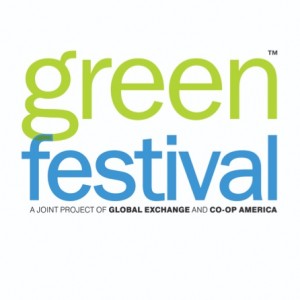 I'm trying little by little to go green, so I thought what a better way to learn about this than to go to Green Festival this past Saturday! Green Festival is the world's largest environmental expo, run by Co-op America and the Global Exchange. Featuring over 350 eco-friendly businesses, 125 speakers, countless workshops, films, kid's activities, live music, and lots of good food, there is fun to be had by everyone!
Some highlights from the festival:
Chocolate
Chocolaterra was selling the cutest little caramel leaves. If I only hadn't left my money at home…
Divine Chocolate is the first farmer-owned Fair Trade chocolate company, based in Ghana. The 70% Dark Chocolate was, well… divine. Maya loved the milk chocolate so much she almost walked away with an entire bar of it, until I caught her out of the corner of my eye. She's not a thief, she just loves chocolate.
Theo Chocolate was the first organic and Fair Trade certified cocoa bean roaster and chocolate maker in the United States. This was definitely the most unique of all my chocolate-tasting experiences. I tried the Venezuelan Dark Chocolate 91% cacao, Vanilla Milk Chocolate, Coconut Curry Milk Chocolate (spicy!), and Fig, Fennel & Almond Dark Chocolate. All soooo good.
Lots of snacks
LÄRABAR is a delicious blend of unsweetened fruits, nuts and spices – energy in its purest form. Made from 100% whole food, each flavor contains no more than six ingredients. The Pecan Pie bar was my favorite.
For over 30 years, Really Raw Honey has been packed straight from the hive. Never heated, filtered, or strained, it still contains pollen, propolis, and healthy live enzymes. It's delicious spread on whole wheat crackers!
Sweet Haven Bakery is a 100% organic, 100% delicious wholesale bakery that just happens to be vegan. I shared a brownie with my sister, and it was absolutely delicious! Moist and chocolatey, the bakery describes it as "unsweetened chocolate gently mixed with passion and the finest flour to create a dense dessert." HEAVEN!
Baby loved the new Organic Bunny Fruit Snacks (Berry Patch flavor) from Annie's Homegrown. Certified organic, vegan, made with real fruit juice, and not containing anything artificial, this product isn't only sold at Whole Foods. You can also find it at Giant, Harris Teeter, and MaGruder's (at least in Northern Virginia).
Immaculate Baking Co. from North Carolina just launched their new Better Bakes ready to bake cookie dough made with organic ingredients. I tasted the Chocolate Chunk and had a bite of baby's Oatmeal Raisin, and they were both yummy! The couple baking the cookies just couldn't keep up with the crowd. I can't even imagine how many cookies they baked over the two days of the festival!
So enough with the food, right?! There was also lots of neat stuff for sale:
Mr. Ellie Pooh is a new eco-friendly, innovative company (what a cute name, right?) that sells 100% handmade exotic gifts, stationery, office supplies and various grades of paper made from elephant dung, pulped to perfection by the elephants of Sri Lanka. All I came home with was a business card printed on elephant dung paper. Nope, it doesn't smell (in case you're wondering).
Naturally safe, fun, and thoughtfully-produced toys from ImagiPLAY. This company sets itself apart from the rest through its motto: "Toys with Integrity."
I never even thought that something as simple as wrapping paper could be dangerous. Earth Presents produces 100% recycled and recyclable wrapping paper. I came home with a bunch of samples of the super-cute designs, which are inspired by the artwork of students with special needs. Even the matching gift tags, ribbon and bows are all 100% recycled.
The National Wildlife Federation is America's largest conservation organization, working to educate, develop resources and promote practical solutions to protect wildlife for our children's future. NWF publishes four award-winning magazines: Wild Animal Baby (ages 0-4), Your Big Backyard (ages 3-7), Ranger Rick (ages 7+), and National Wildlife (for adults).
There were many other vendors there that I'll be featuring later on in my Gift Guide, so I won't give them away quite yet. I do plan on going back to Green Festival next year. The only thing I'll do differently is maybe take some more green in my pocket, if you know what I mean. Green Fest San Francisco is coming up this weekend, with other major cities following suit early next year.
What are some of your favorite green products?