My baby girl turned 3 today. Three years old. And I just now got rid of the last bit of maternity clothes that was still in my closet. Sad, eh? I kept making excuses, but 6 weeks ago, I finally decided to make some changes. I've been eating mostly raw foods and have lost 20 pounds. I feel great, but this way of eating is getting harder as the days go by. I'm craving meat. And pasta. And cooked veggies…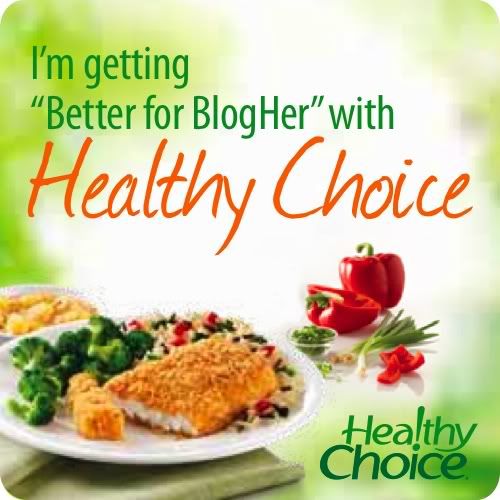 This is why when Healthy Choice invited me to participate in their "Better for BlogHer" challenge, I immediately said yes! This 90-day challenge is designed to inspire us – a group of 20 bloggers – and help us maintain a healthy lifestyle by replacing just one meal a day with a Healthy Choice option. I'll keep eating raw fruits and veggies during the day, but for dinner, I'll get the meat, pasta, and cooked veggies I'm craving, and maybe even a sweet treat here and there.
Why Healthy Choice?
My biggest problem is portion control. Healthy Choice meals are perfectly portioned to provide calorie-controlled, nutrient-dense meals that will help me stay on track for a healthy lifestyle.
I get tired of eating the same 'ol thing everyday. Did you know you can go 90 days without ever eating the same Healthy Choice meal twice? There's a huge variety of different options. The Healthy Choice Complete Meals even come with a real fruit dessert.
I want to make sure I get all the nutrients my body needs. Healthy Choice frozen entrees are low in calories, but they're a good source of fiber and protein. There are also new varieties that feature whole grains.
With two kids at home, I need something that's convenient. A healthy meal is just minutes away in the microwave. There are even meals that need no freezing or refrigeration, like the Healthy Choice Fresh Mixers and canned soups, that I can take with me when I travel.
I'll try to sample as many different Healthy Choice products as possible over the 90 days, and share with you the ones that I love, and the ones that I don't recommend so much. I'm actually looking forward to not worrying about my dinner for once! Hopefully my weight will continue to drop, and I'll learn about portion control at the same time.
Last night I had the Chicken Pad Thai. This Asian-inspired dish was quite good, with a sweet and mildly spicy curry sauce, chicken, and veggies, atop whole-grain pasta. At only 270 calories, it was surprisingly filling. It's one that I would buy again.
Do Healthy Choice meals play a part in your daily lifestyle? What's your favorite product?
Disclosure: I'm participating in a program with Healthy Choice but all opinions are my own.