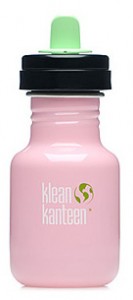 As a mom of a toddler, I feel like I worry about every little thing. You would think something as simple as a sippy cup couldn't be harmful, but it can. I've sure you've heard the news by now, but many plastic sippy cups and water bottles leach toxins such as Bisphenol A (BPA). Studies have linked BPA to breast cancer and reproductive mutations. How scary is that!
Thanks to the Kay Green at My Precious Kid, my daughter was able to try out a Klean Kanteen sippy cup. I had been looking for a good, safe, leak-free sippy for a while now, and think I have finally found the perfect one. This Klean Kanteen holds 12 ounces of liquid, and is made of high quality food-grade stainless steel. It's 100% non-leaching and is toxin-free, making it a safe, healthy alternative to plastic containers. With no inner lining, it's very easy to clean and even dishwasher-safe. I tasted water that sat in the Kanteen for a few hours, and it was still clean-tasting and cool, refreshing even.
It's been over a week now of daily use, and even though it's been dropped multiple times, the Klean Kanteen shows no wear and tear. I thought that the baby might have trouble holding it if the bottle was full, but that wasn't the case at all. Her little hands fit perfectly around the tapered neck. It looks heavier than its actual weight of 4 oz. I love that the Klean Kanteen can grow with her. Once baby is over the sippy stage, all I have to do is buy a new cap and we're good to go. The initial investment may seem steep, but it's worth it in the long run. Klean Kanteens can be purchased from My Precious Kid for $15.95 to 19.95, depending on your spout, color, and size preference.
My Precious Kid is an online child safety & baby gear store. Here you can take care of all of your child's safety needs in one spot. Selling everything from safety ID cards to fingerprint kits, and car seats to baby carriers, you are likely to find just what you need to give you much needed peace of mind. Shop between Thursday, November 27th and Sunday, November 30th, and get 25% off your first purchase with coupon code BLACKfriday08.
My Precious Kid is giving one of my readers their very own Klean Kanteen sippy, complete with 2 Avent spouts. All you have to do is visit My Precious Kid, take some time to look around, and leave a comment here letting me know about a product that you like.
US entries only. Please leave a valid email address or blog URL in your comment. This contests ends at 11:59 pm EST on December 7th, 2008. Winners will be chosen via random.org, and have 48 hours to claim their prize.