Breakfast is one meal I don't put too much thought into. All I ask is that it be something that can be prepared quickly and easily, and most importantly, be healthy so I know that my girls are starting their day on the right track.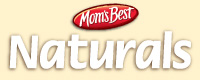 This means that most mornings I tend to reach for the boxed cereal or instant oatmeal. We usually stick to the same varieties week after week, but I was just sent a box of several Mom's Best Naturals cereals to try and I very much like what I've tasted so far!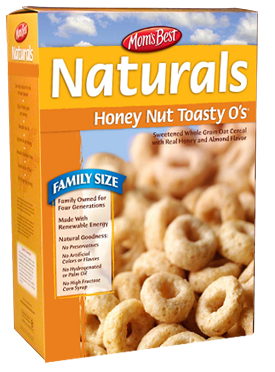 Mom's Best is a family-owned company that makes more natural versions of popular cereals. The first box we opened was the Honey Nut Toasty O's, which are comparable to Cheerios. Just by looking at the packaging I noticed right away that the box is significantly bigger (wider) than the typical Cheerios cereal box. My toddler couldn't tell the difference, and I also found them to taste just like Honey Nut Cheerios, perhaps a little less sweet (which is a good thing). After comparing prices, the Mom's Best brand ends up costing almost half of what I pay for Cheerios! Considering we go through at least one box a week, that is a significant savings over time.
But the baby's not the only one getting a cereal makeover! With 9 different varieties, there's something for everyone.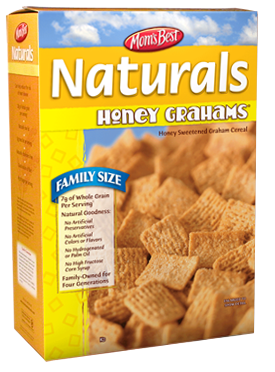 My personal favorite has to be the Honey Grahams cereal, which tastes exactly like graham crackers. Crunchy and sweet, it's SO yummy that I've just been eating it straight out of the box! Hubby's pick is the Raisin Bran, because he likes getting a big fiber boost (6g per serving!) in the morning. The Oats & Honey blend is delicious, and a big hit with my four-year old. It's comparable to Honey Bunches of Oats. Her only complaint was that there aren't enough "crunchies", but she still managed to lick her bowl clean.
Yes, the cereals are good, but what really sold me on this brand is the healthiness factor. Mom's Best Naturals products have no high fructose corn syrup, no hydrogenated oil, and no artificial preservatives, colors, or flavors! That and the fact that the retail price is 20 to 50 percent less than most other natural or organic cereals on the market really makes this brand more and more appealing.
Not to mention the green aspect! The company tries to go as eco-friendly as possible, with 100% of the power consumed by the production of its natural cereals coming from Windsource, a network of wind turbines that generates electricity. The packaging is 100% recycled paperboard, and over 99% of their waste is recycled.
Thanks to Mom's Best Naturals for the opportunity to try this cereal!