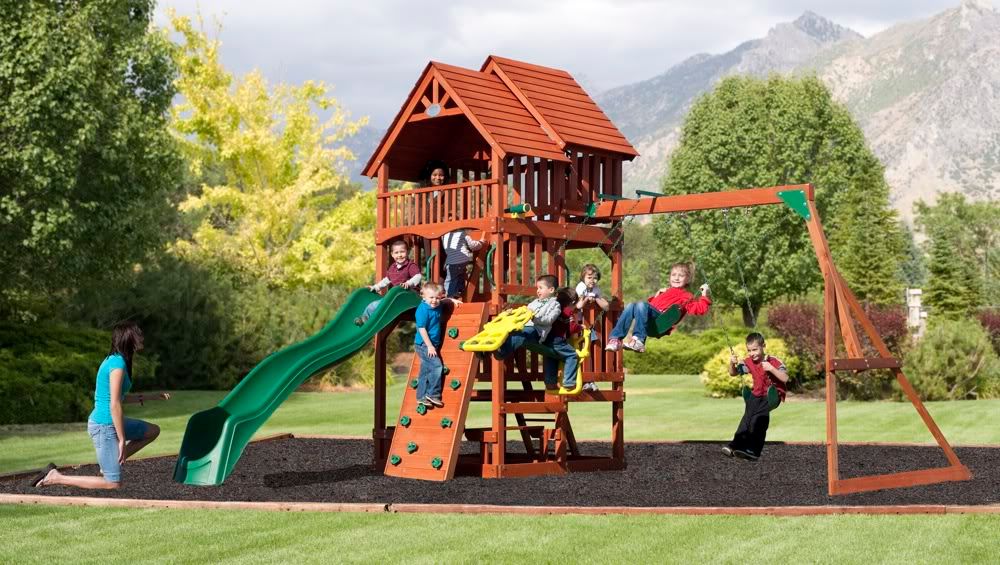 As I promised in my big announcement earlier this week, our new Backyard Discovery wooden playset was installed and is just beautiful! Just like the photo to the right.
It didn't take long for the news that we have a new playset to spread like wildfire through the neighborhood… lots of kids came over to play yesterday afternoon! It's raining today, but I'm hoping it'll clear up and we'll be able to spend lots of time outdoors this weekend.
My first impressions
The four-level playhouse/fort is huge! With lots of pre-cut parts and a detailed instruction manual, it took two professional installers almost 5 hours to complete. Most of the small boards went towards the viewing walls, which let me see just what the kids are doing. (They can run but, they can't hide!)
The entire thing is really sturdy. I pushed, pulled, and prodded, yet nothing moved. The swing beam doesn't rock when 4 kids are swinging, either. I just wish there wasn't a weight limit! These playsets are for children 3-10 years old. 😉
The attention to detail is amazing! The arched entryways and sunburst details on the roof, for example.
The slide is smooth and fast! The installer suggested it be placed a little further back than our previous slide, and I'm glad I consented. The kids just fly off and love it!
Sliding and swinging!
And gliding!
While I sat and observed from the cute four-person picnic table…
Mental note: Take the baby monitor outside with me, as I turned towards the house and saw this…

Oops! I prompty ran inside and scooped her up… and she went straight for the slide!
What's coming up next?
I need to treat the playset with a water sealant soon… I want this set to last us a long time! I'm thinking Thompson's WaterSeal, but I'll check into a few other brands and see what the safest option is.
Surround the play area with mulch, too. Ideally I'd love to use rubber mulch, but I think that's a little beyond our budget. It's been a while since I last checked prices, so I may revisit that option.
And for my readers – next week I'll share with you how to 'PLAY SAFELY.' This is an acronym, created by Backyard Discovery, which outlines 10 points parents should consider when researching and shopping for outdoor playsets. It's a must-read if you're thinking about buying a playset for your kids anytime soon! If you can't wait, you can also visit Backyard Discovery's Facebook page, where you can find these tips, too!
I'll leave you with my favorite photo from yesterday…
Disclosure: As part of an ongoing relationship, Backyard Discovery provided my family with the wooden playset pictured above, and will be covering my BlogHer '10 conference expenses.