I'm a member of the ARM & HAMMER Influencer Network and received complimentary product samples to facilitate my review, as well as compensation for my time, but all opinions are my own, as I've been a loyal ARM & HAMMER user for years.
The closer we get to the first day of school, the earlier I've been putting my girls down to bed, and the harder it's been getting them to fall asleep… talk about frustrating!
I know it's a combination of being overtired at the end of these busy end-of-summer days and anxious about school starting. I know it'll pass and we'll get back to our normal routine soon enough. I know.

For now, I'm coaxing them to bed with the promise of a cup of tea and a good book once they're in their PJs. "Sweet Dreams," "Sleepytime"… the tea is like a subliminal message telling them to get to sleep, and the book is the distraction they need to get there. They sip the tea out of these tiny little espresso cups that I bought just for that purpose. We don't need any middle-of-the-night potty runs disrupting our sleep!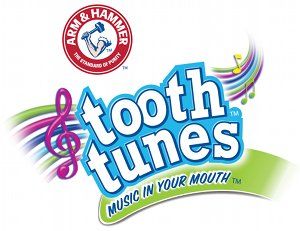 Book is read, tea is drank… then it's teeth brushing time!
I find that if we do it together, it's fun for all of us, and sets a good example for my girls, especially Maura, who can get a little cranky (and run and hide under a blanket) when it comes to brushing. It's all about making it fun, and Maya does just that with her Tooth Tunes™ toothbrush that pumps two minutes of One Direction straight into her head! I have to admit, while I have a fantastic red, sparkly Spinbrush, I get a little jealous when I see her rocking out! You can read more about Tooth Tunes in a previous post.

My Spinbrush: ProClean Sonic is awesome, though. I love that you can extend the life of the toothbrush by buying replacement heads instead of a whole new product. The Color-Wear bristles that fade over time make it easy to know just when it's time to make the change!
Maya's finally at the age where she's not repulsed by the taste of adult toothpaste, so we can even share the same tube – currently ARM & HAMMER™ Sensitive toothpaste, from the makers of Orajel™. It's gentle and provides relief from painful tooth and nerve sensitivity, which many people experience. I may be strange, but I actually like the baking soda aftertaste. It makes my mouth feel fresh and clean, and is a unique flavor you don't get from any other brand.

Look around my house, and you'll likely find an ARM & HAMMER product in every room – from the toothpaste in the bathroom, to my husband's Simply Saline mist on his nightstand, the liquid detergent in the laundry room, a box of baking soda in our fridge to keep things fresh and odor free, and a jumbo bag of the same under the sink, which I use for cleaning just about everything. It's a brand that I trust and have used for years, thanks to its versatility, effectiveness, and reasonable prices, all of which make it a great value. With ARM & HAMMER, it's all about keeping it simple and saving!
BUY IT!
Visit ARM & HAMMER's website to learn more about ARM & HAMMER products, and connect on Facebook at facebook.com/armandhammer. Be sure to check out where to buy these products and sign up for the ARM & HAMMER Savings Center to get coupons!