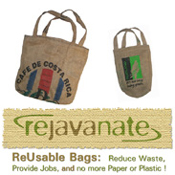 When I heard the ReJAVAnate story, I knew I had to feature it here. It is such a unique program, and the conclusion of my green gift ideas.
ReJAVAnate is the brainchild of the Renovos Global Group. Renovos is a company that works with businesses to reduce their waste consumption. They take burlap from coffee roasters that would be otherwise sent to landfills. With coffee being the second largest commodity in the world, 800,000 tons of burlap are put into landfills every year! Renovos then works with The Arc to hand-make the bags, providing jobs to those that often have difficulty finding them. The Arc is the world's largest community-based organization of and for people with intellectual and developmental disabilities.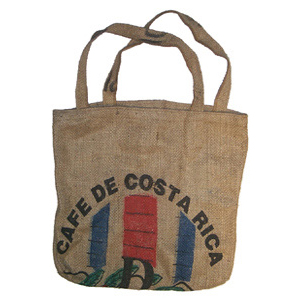 ReJAVAnate is really making a difference one bag at a time! You can also help make a difference by buying one of these bags. It's a good way for individuals and organizations to make a statement about reducing paper and plastic bag consumption. The ReJAVAnate reusable bags are great for shopping, are completely biodegradable, and range in price from $7.00 to $9.00, depending on the size and style.
Win it! ReJAVAnate is giving three of my readers a large lined Grower Logo bag. All you have to do is visit ReJAVAnate, take some time to look around, and leave a comment here letting me know something you learned about on the site.
US entries only. Please leave a valid email address or blog URL in your comment. This contests ends at 11:59 pm EST on December 7th, 2008. Winners will be chosen via random.org, and have 48 hours to claim their prize.
Make sure to check out ReJAVAnate's sister company BuyGreen.com!