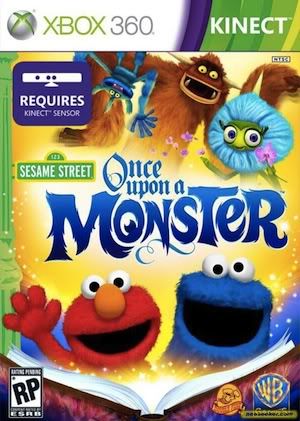 Last week, Warner Bros. Interactive Entertainment invited us to a pre-launch celebration of their all new family adventure game, Sesame Street: Once Upon a Monster. We were able to experience the game before it becomes available on store shelves next month. The developer was on hand to answer questions, and everyone was incredibly nice. Maya and her friends had a blast!
In this video game, which is launching exclusively on Kinect for Xbox 360, players join favorite Sesame Street characters Elmo, Cookie Monster, Grover, and new characters in an uplifting and funny adventure the whole family will enjoy!
The storybook-like adventure features cooperative gameplay, designed for parents to play with their children or siblings to play together. Players become part of the adventure, helping new monster friends with their problems by exploring the book chapter by chapter, page by page. Where previous Sesame Street video games taught math and reading skills, this game focuses on social, emotional, and other important life lessons. The fact that it's controller-free makes it easy for kids to easily jump in. Maya caught on right away, as did a friend of hers, who had never used Kinect before.  The graphics are gorgeous and I LOVE that it's active gameplay. Players can engage in fun, physical activities like dancing (as seen in the video below), playing instruments, flying, and running obstacle courses. We only played a couple of chapters during our short demo, but I'm looking forward to adding it to our growing library of Kinect games when it's released next month, and will tell you all about it then!
Watch Maya playing the game in this video. Ignore me making a fool of myself. 😛

Watch the official trailer here…

And a funny video starring Cookie Monster and the game's developer, Tim Schafer.

For more information on the game, visit OnceUponAMonsterGame.com. Released three weeks from today – on October 11th – you can pre-order it on Amazon.