My husband and I are going to New York City this weekend, which I'm honestly a little nervous about. Not with regard to the trip itself, but staying on plan throughout the 4 days we're there is what worries me. I've been known to fall off the wagon during trips like these since the temptation to eat out is just so hard to resist when there are so many amazing restaurants around!
 THE PLAN
I just got my second order over the weekend, so I've been trying out a bunch of new Medifast foods. S'mores bar = love. Pretzel sticks and BBQ bites? Yum. The crunch factor is something I was missing, and these definitely satisfy. I ordered more ready-to-eat foods (To Go! meals, Medifast calls them) this time in preparation for our trip.
I haven't even packed my suitcase yet, but I have organized all the Medifast foods I'll be taking with me into little baggies. I'm taking enough bars, shakes, pretzels, juice drinks, and bites for 4 days, plus a couple of brownies that I'll bake ahead of time. Packing the cool Medifast BlenderBottle, too, to make preparing the shakes that much easier.
I'm not going off plan. Nope. Not doing it. I've worked too hard the past 5 weeks to mess up now. I will let myself have one delicious restaurant meal each evening, so it's not like I'll be missing out! (More like saving money for a little 5th Avenue shopping… ;)) I've already made reservations for each night we're there; usually I always keep my husband in mind when doing so, but this time it's all about ME. Looking at the menus ahead of time to make sure each restaurant has a variety of lean & green meals took some time, but I'd rather be safe than make bad choices.
 CHALLENGES
I noticed that my weight loss was slowing down, so I took some time to look over my food logs and actually analyze what I've been eating. After talking to my dietitian about how perhaps I had "slipped" out of the fat-burning state, one thing stuck out to me big time. I never even liked ketchup much before, other than for dipping a french fry or two every now and then, but I became slightly obsessed with it the past couple of weeks. Weird, right? I was probably eating it everyday. Dipping some rotisserie chicken in it magically reminded me of chicken nuggets. Adding a little to my Medifast sloppy joe made it more sloppy joe-y. I only had a little bit at a time, but since it's high carb, I'm sure it all added up. That said, we ran out of ketchup last week, and I haven't bought anymore since. There are tons of those little packets from fast food restaurants lying around, so my kids can use those if need be.
MY WEIGHT
And what happens when I lower my carb intake? I lose weight, THAT'S what!
Starting weight: 211.6 lbs
Weight lost month one: 12.6 lbs
Weight lost week five: 3.2 lbs
Current weight: 195.8 lbs
Still to go: 35.8 lbs
REWARDS
Since I reached another 5 lb milestone (15.8!!), it's time for another reward. A makeup palette from Sephora. I haven't bought new makeup in forever and have never had a set with everything in it – eye shadows, lipstick, blush.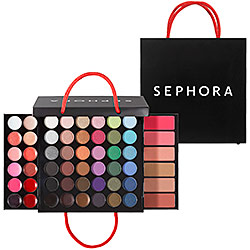 I was about to purchase this online, but I've decided to wait until this weekend to visit the Sephora store in Times Square. I might just change my mind and get myself something else. Maybe I should just say my reward is a Sephora gift card then, huh? 😉
Past rewards:
-5lbs: Silver earrings DONE!
-10lbs: EarBUDi clips DONE!
INTERESTED IN LEARNING MORE ABOUT MEDIFAST?
Check out Medifast's website for complete details on the program and discounts. If you use my coupon code, BUZZ56, and sign up for Medifast Advantage, when you order $250+, you'll receive 56 free Medifast Meals and free shipping! Medifast Advantage has a lot of perks, including free customizable meals and a free BlenderBottle with minimum purchase. Let me know if you have any questions!
Disclosure: I receive free product in order to evaluate and comment on my experiences on the Medifast Program. Medifast products and the Medifast Program are not intended to diagnose, treat, cure, or prevent any disease or illness. Any medical improvements noted while on the program are related to weight loss in general, and not to Medifast products or programs.