The best inspiration is not to outdo others, but to outdo ourselves.
– Anonymous
It's amazing how things change after only 8 short weeks. I no longer huff and puff on the elliptical… I even enjoy it a tiny bit. The same with walking and running. I actually look forward to my strength training days, too. Feeling myself getting stronger is awesome! These are things that only I can see, of course. People have been noticing my weight loss, though, and everyone's support is so appreciated.
MY WEIGHT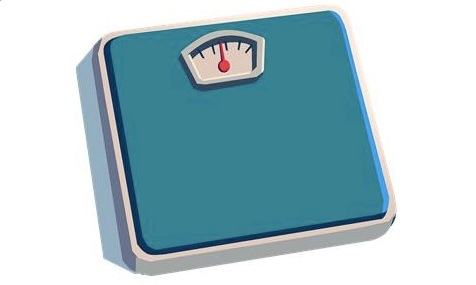 This week, I saw no change on the scale. Not even a tenth of a pound. I was feeling super bloated due to a visit from 'Aunt Flo' and a high-sodium Thai dinner the night before weighing in, so… while I wasn't completely surprised, I can't say I wasn't disappointed.It's times like these when I look at other ways my body is changing. Last weekend I found, among my papers, some measurements I took a few months ago scribbled on a Post-It, which I thought I had lost. I measured again, and am thrilled to say I've lost
23 inches of fat
in the past two months! Almost half of that in my chest and hips.
I've been pulling out old clothes here and there, trying to find new things to wear, but I'm in this weird in between stage where I don't really know what size I am. Size 16 is too big, but most of my 14s don't fit yet.
Somehow
a pair of size 10 Lucky Brand jeans that a friend gave me do… with major muffin top, but they zip up nonetheless. It's frustrating!I just found out about this company called Me-Ality (short for "measured reality"). It's a service that basically scans your body for a few seconds, capturing your exact body measurements, and then gives you a shopping guide that lists all the different brands and styles that would fit your body, eliminating the guesswork and frustration associated with shopping for clothes. Sounds perfect for someone who's lost weight! Unfortunately this service is currently only found at shopping malls in Texas, Arizona, Ilinois, Georgia, but new locations will be added in time.
Starting weight: 211.6 lbs
Current weight: 191 lbs (no change this week)
20.6 lbs lost, 31 still to go!
More info on MEDIFAST! A discount, too!
Does my success on the Medifast plan inspire you? Be sure to use my coupon code, BUZZ56, when you sign up for Medifast Advantage, and when you order $250+ of food, you'll receive 56 FREE Medifast Meals and free shipping!
The details: For your first order of $250+, use my code, and enroll in Medifast Advantage to receive 28 free meals. Do the same on your next order and you'll receive ANOTHER 28 free meals! This offer is only valid if you enroll in Medifast Advantage, and it's limited to one per customer. It's not valid with prior purchases, any other promotions or discounts, or for Medifast Ready-to-Drink Shakes. Check out Medifast's website for complete details on the program and discounts.
Disclosure: I receive free product in order to evaluate and comment on my experiences on the Medifast Program. Medifast products and the Medifast Program are not intended to diagnose, treat, cure, or prevent any disease or illness. Any medical improvements noted while on the program are related to weight loss in general, and not to Medifast products or programs.