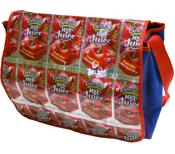 I first heard of TerraCycle about a year ago or so, when I opened an issue of Newsweek to see an offer from Target for a free Retote in exchange for mailing in plastic Target shopping bags to TerraCycle. I happened to have several plastic Target bags in my cabinet, so I stuffed them in the makeshift envelope and sent it away. Just a few weeks later I received a coupon in the mail for my free Retote and picked one up at Target soon thereafter. That a was big turning point for me, because it was the very first reusable shopping bag I ever owned. Thanks to that little nudge from TerraCycle I now rarely use plastic bags and have changed some of my family's other habits in an effort to go green. If you've never heard of TerraCycle, I'm thrilled to introduce you to this wonderful company! If you are already familiar, then hopefully you'll learn a little something about their new product lines.
TerraCycle makes unique, eco-friendly, affordable products from a variety of waste and non-recyclable materials – drink pouches, yogurt cups, candy wrappers, plastic bags, and more. Since most of this trash cannot be recycled, it ends up taking up precious space in our landfills. TerraCycle collects these waste materials directly from the companies that produce it, including juice pouches from Kraft, bags from Bear Naked, and yogurt cups from Stonyfield Farm, just to name a few. To reward people just like you for collecting unrecyclable items, TerraCycle has another program where they donate money to your chosen charity or school, usually 2 cents per each approved product. It's a great fundraising activity for schools and non-profits, and inspires kids nationwide to make a difference locally and globally. There are tons of spots open!
"Upcycling", or turning waste materials into new products, is a fairly new concept, but should be considered a great reinvestment in the environment. Last year Kraft sent TerraCycle over 10 million Capri Sun juice pouches that Kraft couldn't use because they were either misprinted or discontinued, and TerraCycle turned those pouches into amazing new products, keeping all that trash out of a landfill. And that's only one company! Upcycled products are fairly expensive and hard to produce, so until now they've been thought of as "boutique" items. TerraCycle has changed that, making it easy for everyone to own environmentally friendly items.
TerraCycle has recently launched four new product lines and I had the opportunity to see some of the items.
Drink Pouch School Products
This has got to be my favorite product line, all made from 100% juice pouches! TerraCycle cleans and sorts the juice pouches by brand and color, then sews them together and reconfigures them into backpacks, pencil cases, tote bags, messenger bags, and homework folders.
Maya proudly shows off her backpack to anyone that gives it a second look. Not only that – she also explains to them what it's made of and informs them that juice pouches aren't recyclable. It's amazing to me how many people don't know that! The straps on the bag are easily adjustable, the inside is lined, and it has a spacious front pocket. Ours is all covered in Wild Cherry Capri Sun juice pouches that have a soccer player design on them, so I imagine it could easily work for a girl or a boy. It's a little big for my 4-year old, but would be perfect for a child in elementary school. If she lets it out of her sight for a minute, I might just stash it away for when she starts Kindergarten!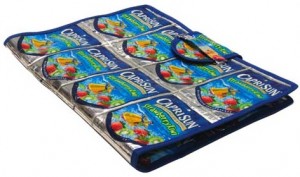 The homework folder is geared towards kids, obviously, but Maya's not in school, so it's officially mine! Think of it like an eco-friendly Trapper Keeper… without the rings. It's roomy; I can fit tons of papers in its two pockets. You can tell by how many juice pouches it's made of just how big it is! If I spill my coffee on my desk, it's no problem because I can just wipe the folder clean. It doesn't use magnets, velcro, or zippers; it's a very simple design, but it works! A similar item is the pencil case, which has a zipper closure.
Lastly, the tote bag… I love it. I've been carrying it non-stop since I received it a few weeks back. My neighbor saw my tote bag and commented that she "saw something like that at the beach last year" for $95! When I told her how much it costs at Target she was floored. Made of a variety of different Capri Sun juice pouches, the tote is the perfect size to hold just what I need and is super-sturdy and deep. The inside is all shiny silver, because it's the inside of the juice pouches themselves. My only complaint about the bag is that the corners at the top are a little sharp. I'm not sure how that could be fixed, unless it's given a border like the homework folder. It's not a big deal, though, but just something to think about.
The Drink Pouch products are very well made and are as stylish as they are eco-friendly! I like the fact that they're easy to clean, and because of the stiffness of the juice pouches, the bags don't collapse when there's nothing in them. All these items are extremely affordable, at $1.99 for the pencil case, $9.99 for the tote bag, and $17.99 for the backpack. You can find them at Target, Office Max, Walgreens, and other retailers nationwide, as well as on Target.com.
Vinyl Record and Circuit Board Line
It's no secret that technology progresses at an astounding rate. As prices for computers, TVs, and other electronics plummet, it makes it easier for consumers to upgrade on a regular basis. This leads to tons of electronic waste, much of which isn't even disposed of properly! TerraCycle has taken vinyl records and used circuit boards that would have otherwise ended up in a landfill and turned them into useful and unique home decor. I've seen products like these at fairs and on Etsy, but never from a well-known retailer – until now! This is the first nationally distributed product line made from upcycled vinyl records and circuit boards. Three unique product lines, in varying sizes, created using actual circuit boards and vinyl records, including: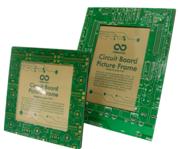 Clocks: A 6″ circuit board clock, and 7″ and 12″ vinyl record clocks, made from 45 RPM singles and 33 RPM LP's respectively.
Coasters: Cut from circuit boards or the center label from vinyl records, they come in 4 packs.
Picture frames: Made of vinyl records and circuit boards, they are sized to hold 4″x6″ or 4″x4″ photos.
I have a 12″ vinyl record wall clock, and there's not much for me to say other than that it rocks!
The numbers are molded perfectly into the plastic, giving it a retro, yet really modern look. The photo doesn't do it justice, as it looks much neater in person! It requires one AA battery (not included) and functions like any ordinary wall clock. It's the perfect addition to our jazz-themed media room and would be such a great gift for any music-lover! My husband didn't believe that it was a real vinyl record at first, he thought it was only designed to look like one. After turning it over a few times, examining it up close, and looking up the artist online to see if he was real, he finally gave in! The amazing thing is that this clock, and everything else in the vinyl and circuit board lines, sells for only $12.99!
I haven't tried anything in the following product lines, as I have no pets and it's not quite warm enough to start gardening just yet! They look great, though, and considering the quality of the other TerraCycle products, I'm sure they are!
Pet Products
Sold exclusively at Petco, TerraCycle's first line of pet products features nine different natural, non-toxic products that are packaged in repurposed 1-liter soda bottles. Ranging in price from $2.99 – $19.99, they are competitive with traditional alternatives. A few of the new products:
Natural Stain and Odor Remover, made from naturally occurring microbes that is strong enough to get rid of stains and odors, but safe enough to spray directly on your pet.
Natural Dig Stop, made from a mixture of essential oils that is harmless, but unpleasant to animal's sensitive olfactory glands.
Skunk Odor Remover, a probiotic solution that digests the microbiotic matter in skunk spray that causes the foul smell, eliminating, not masking, skunk odor.
Eco-Friendly Bird Feeder made from repurposed bottle – first of its kind!
Spring Garden Line
Spring is just around the corner (thank goodness!), and TerraCycle wants to help you start your garden with their eco-friendly, affordable garden products that range in price from $4.99 to $19.99. I've seen some of these products at Home Depot, and they can also be found online at Gardener's Supply Company, True Value, and Clean Air Gardening
Lawn and Garden Fertilizers: Made from worm poop! The Lawn Fertilizer is formulated to keep your lawn growing thick and green all summer. The Garden Fertilizer comes with a balanced formula for flowering plants. Certified non-toxic, these fertilizers do not cause plant burn, pollute groundwater and are safe for use around kids and pets.
Rain Barrel: Made from used oak wine barrels once used to ferment Kendall Jackson Chardonnay, these are the only mass market rain barrels that are just as green in their design as they are in function. The treated oak adds a classy rustic look to any landscape – perfect gift for a wine lover!
Seed Starter: With a tray made from 100% post-consumer paper, there's no need to yank your fragile, young plants to transfer them any longer! The cells can be planted directly in the ground and will biodegrade naturally.
Granular Fertilizer: The first solid variety of Worm Poop fertilizers, this feeds plants for 8-12 weeks so you only need to fertilize 2-3 times a summer!
What I've mentioned above is only a selection of all the products TerraCycle offers!
Use the TerraCycle Store Locator to find a retailer near you!
__________________________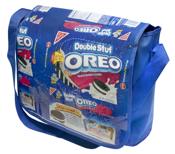 Giveaway is closed.
To introduce my readers to these great products, TerraCycle is kindly letting me give away messenger bags to five of you! You will win either the bag made from drink pouches (like the photo above) or the bag made from Oreo cookie wrappers. Bag choice will be up to TerraCycle, depending on what is in stock at time of shipping. To enter, please visit TerraCycle, then come back to this post and leave a comment telling me what product line or recycling program interests you the most.
For extra entries:
Blog about this giveaway, linking back to this post and to TerraCycle.
Subscribe to my feed (or let me know if you already do).
Grab my button and link to me in your sidebar or blog roll.
Please leave a separate comment for each entry and leave a valid email address or blog URL in your comment. US entries only. This contest ends at 11:59 pm EST on March 8th, 2009. Winners will be chosen at random, and have 48 hours to claim their prize.