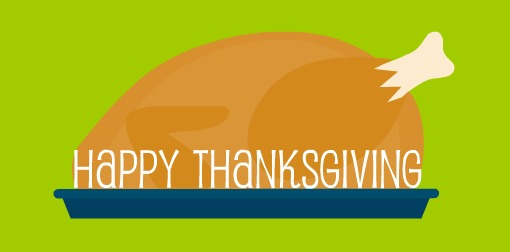 I mentioned in a previous post how you should take a chance and try a new recipe this Thanksgiving. Well, I've done the dirty work for you! Here are a few for you to try. Some are traditional favorites, others have a unique twist. Even if you're not much of a cook, click on the links anyway. They are all wonderful blogs!
SOUP
Chrissy shares a recipe for a hearty Roasted Vegetable soup on her blog, Storm of Thoughts. The veggies can easily be chopped and roasted ahead of time!
MAIN DISH
Melissa, from Your Fun Family blog, makes turkey several times a year, and offers up a simple recipe, including tips on how to roast it and make more flavorful drippings.
Some people don't like turkey, right? Jessica, from MomFuse, provides an alternative with her family's recipe for Cranberry Meatloaf.
SIDES
Jenn, at Frugal Upstate, shares a recipe for Mushroom Stuffing that one of her readers submitted for her Frugal Thanksgiving Mini Series. Great for mushroom lovers!
For something a little different, take a look at Linda's Crock Pot Calico Beans recipe. You probably already have all the ingredients you need in your pantry.
Kristie shares her grandmother's recipe for Baked Corn on her blog, Karene's Kitchen. She'll be posting new recipes everyday up until Thanksgiving, so check back often!
Sweet potatoes are a must-have on my Thanksgiving menu. Caryn, from Cooking and Eating Through Texas, shares her Sweet Potato Casserole with Praline Topping.
My mom always makes an apple salad for family get-togethers. This is an easy recipe for Apple Waldorf Salad, also from Caryn.
DESSERT
Janine, from Twofer the Price of One, shares her grandmother's famous Apple Pie recipe.
And just for fun, why don't you try Jenni's recipe for brownies? It's the Jiggety Family Recipe. With the step-by-step directions and photos she provides, there's no way you can mess these up!
If this isn't enough inspiration for creating your Thanksgiving menu, check out Caryn's full menu, and Jenn's Frugal Thanksgiving Mini Series, for even MORE ideas!