There's something I find so relaxing about wrapping presents! To me, it's not a chore… more like an arts and crafts project that I do by myself, usually late at night, while sipping on hot chocolate and listening to Christmas carols. I also love the challenge of wrapping an oddly-shaped gift. It's fun!
But the best part, obviously, is giving a beautifully-wrapped gift. Seeing the recipient's face light up when you give it to them? Priceless. Regardless of what it is, doesn't it make you feel special when you receive a gift that's obviously taken some time to wrap? The time and thought invested in wrapping is a gift in itself.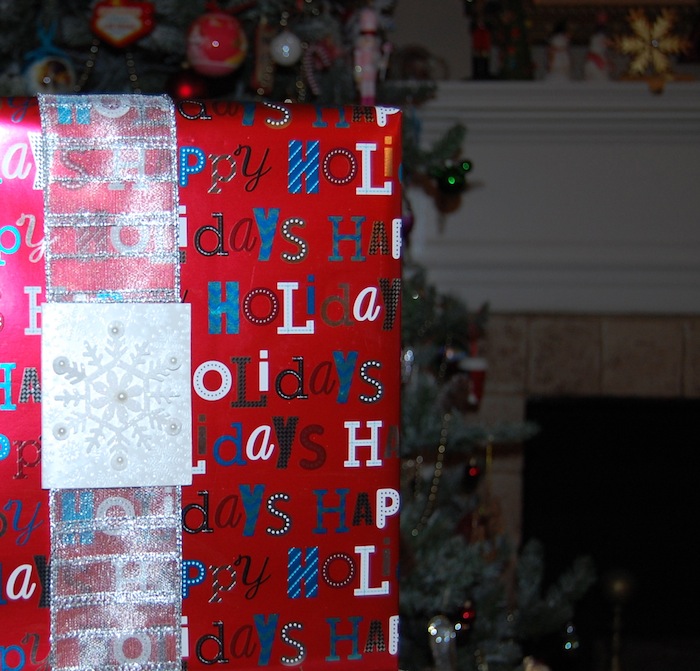 While I won't tell you how to wrap a gift, I do have some advice…
Keep your supplies organized. I have everything in a long bin that doesn't take up too much space. Plus, the top doubles as a sturdy wrapping area in case I have to go hide in my bedroom to wrap gifts!
If your kids get gifts from Santa, and you wrap them, buy a different wrapping paper for those gifts. And hide it.
Have a dedicated pair of scissors, a good pen, and plenty of tape just for the purpose of wrapping so you don't have to go hunting around the house for them. Some sticky notes come in handy, too, if you're not going to label each gift right away.
Use a toilet paper roll to keep your rolls of gift wrap from unwinding.
Wrap on a hard surface. There's nothing more frustrating than tearing the paper!
Remove – or black out – price tags.
Don't wait until the last minute! Wrap as you go so it doesn't seem so overwhelming.
I received a gift card for sharing this information with you, but all opinions are my own.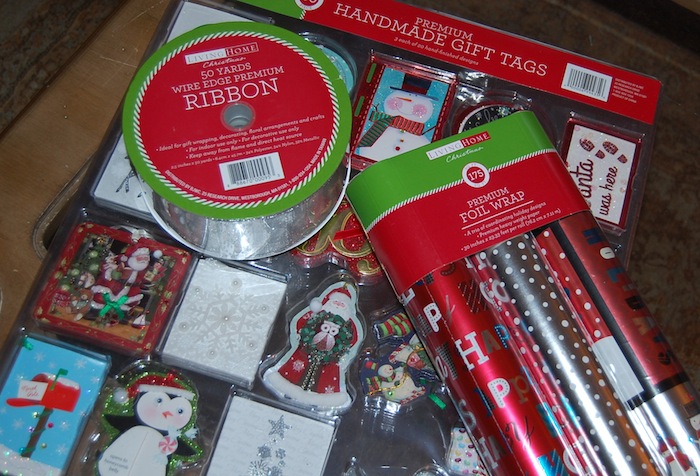 This year, I bought my gift wrap at BJ's Wholesale Club.
Living Home Christmas Handmade gift tags.

60 for $9.99 (3 each of 20 different designs). This is an easy way to personalize my gifts. The hand-embellished details are so beautiful and the attention to detail is impressive, from the fur on the polar bear to the little white beads floating around in the snow globe tag. So pretty, they could even double as Christmas tree ornaments!

Living Home Christmas Premium Wire Edge Ribbon.

50 yards for $8.49. It's made of quality fabrics with gorgeous embellishments, such as glitter and flocking. I bought a neutral silver metallic ribbon that I can also use for other craft projects throughout the year.

Living Home Christmas Premium Foil Wrap.

A 3 pack – 175 square feet – for $9.99. This trio of fun and festive heavyweight foil wrap comes in coordinating designs so my presents will all look nice under the tree!

Tape.

Lots of it. Running out when you're trying to discreetly wrap your kids presents late at night is no good!
I'm very happy with my purchases! Each Living Home holiday product is developed exclusively for BJ's Members with quality, value and attention to detail in mind. In fact, most of these products and designs cannot be found anywhere else! I love the designs and handcrafted details on their cards, wrap and wrapping accessories.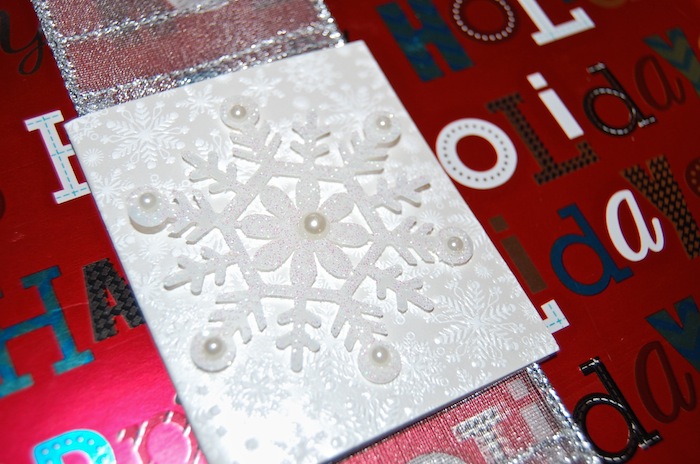 In addition to a wonderful selection of gift wrap, at the Club you'll also find beautify holiday decor, great products for entertaining and, of course, gift-giving. Don't forget to check out the delicious appetizers, fresh prepared foods and decadent desserts!
About BJ's Wholesale Club
BJ's Wholesale Club is a one-stop shopping destination for name brand, high- quality food and merchandise at prices that are significantly lower than supermarkets, department stores, drug stores and specialty retail stores. Headquartered in Westborough, Massachusetts, BJ's operates warehouse clubs in the eastern U.S., currently with 206 clubs and 119 gas stations in 15 states.
Why I shop at BJ's
BJ's values are compelling, especially when I'm looking to save money… which is always!
BJ's carries the most product variety of any other wholesale club with more than 7,500 items, including smaller packaged staples in addition to bulk sizes.
BJ's is the only wholesale club to accept all manufacturers' coupons in addition to in-club coupons and for greater convenience, offers the most payment options including SNAP/EBT cards.
BJ's carries more organic options than other wholesale clubs I've been to.
BJ's annual membership fee is reasonable.
BJ's is the most convenient to me, only a couple of miles away.
To learn more and shop online, visit www.BJs.com, and be sure to follow BJ's on:
WIN IT!
Enter to win a $25 BJ's gift card! Just follow the Rafflecopter instructions below.
a Rafflecopter giveaway