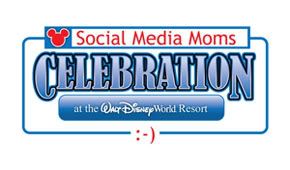 I've always said that there are both positive and negative aspects of every blogging event I go to. Until now. I can't find anything negative to say about the Social Media Moms Celebration at Disney. Honestly, the entire experience just blew my mind! I had been to Walt Disney World twice before this, once with my grandma for my 16th birthday, and the second with my husband for our first anniversary, but nothing compares to my visit this past week.
When I registered for the conference back in December, I got an email confirmation that stated "Thank you for registering for what promises to be an exciting and educational event." Those that organized it really delivered on this promise. Leanne and Laura from Walt Disney World, Amy Lupold Bair from Resourceful Mommy Media, Susan and Janice from 5 Minutes for Mom, Jennifer James from Mom Bloggers Club, and Maria Bailey from Mom Select – thank you!
We came home Saturday night, but it's taken me a while to decompress, unpack, take a look at my notes, and gather my thoughts. Not surprisingly, it's hard to get into writing mode after not touching the computer much for almost a week! So much happened between Tuesday and Saturday that I'll have to split this up into several long posts.
Day 1
Breakfast with Guy Kawasaki ~ Celebrate Volunteering event ~ Dinner and concert
Since I arrived late on Wednesday, I missed all of the day's activities. Day 1 of the conference for me was actually Day 2 for most everyone else. The reason for me being late? I'll be devoting an entire post to that eventually. For now, suffice it to say that a certain bus company will not be getting business from me ever again. But back to Disney.
Breakfast with Guy Kawasaki
I woke up bright and early Thursday morning and made my way over to Epcot with all the other conference attendees for a breakfast with Guy Kawasaki (@GuyKawasaki) at the American Adventure Pavilion in the World Showcase. Guy, creator of Alltop and a social media legend, spoke about the importance of Twitter. How to use it as a marketing weapon. I had heard of Guy, followed him on Twitter, but didn't know much more about him. He's awesome. A great speaker. Knowledgeable about social media. Incredibly passionate. And funny. He had his computer out and gave us a live demonstration. Some highlights:
It takes a while to "get" Twitter.
Twitter search is where the magic happens. Monitor your reputation. Do market research. The advanced search screen gives you tons of options – search by zip code and even by attitude!
Great examples of brands using Twitter to sell: @DellOutlet – to promote sales and coupons; @KogiBBQ – a food truck that tells people where they'll be, always ensuring a line of people waiting for them; @comcastcares – great customer service! Tweet about an issue and they'll help you solve it.
Twitter should be used to drive traffic to your blog. Use a service like TwitterFeed, which is easy to set up and free! (I also use a WP plugin called TwitPress). Objective Marketer can be used to schedule and repeat tweets. Don't be afraid – repeat your tweets 3-4 times, 8-9 hours apart. Just look at CNN – they repeat the same exact news story every hour.
Add good content to your stream and you'll get more followers. Find links to tweet. Check Mashable, Alltop, StumbleUpon, and SmartBrief for ideas.
UFM. If someone has a problem with his tweets, Guy sends them a simple message – UFM. UnFollow Me.
Celebrate Volunteering event
Next up – an event to honor volunteer families from all over the United States and Canada. Celebrating volunteering is Disney's theme for 2010. Their goal? To inspire 1 million people to volunteer their time to help meet the needs of their communities. To celebrate their efforts, Disney will give them a day at a Disney theme park. This is the "Give a day, get a Disney day" program that launched on January 1st.
Just 6 weeks into the program, 600,000 people have committed to, or already completed, volunteer work – more than halfway to goal! Visiting hospitals, cleaning up beaches, feeding the homeless, helping out at animal shelters, and preparing packages of supplies for families in need in Haiti, are just a few examples of what volunteers have done.
Disney has a long history of community service, starting with Walt himself, who once said, "The greatest moments in life are not concerned with selfish achievement, but rather the things we do for other people." Disney cast members have donated more than 5.5 million hours of service in the past 25 years.
After an appearance by Kermit the frog and an introduction by Chairman of Walt Disney Parks & Resorts, Tom Staggs, it was time to unveil what was behind a wall of balloons – the world's largest structure of canned foods (according to Guiness World Records). A world record can structure deserves a really dramatic reveal, and the expert on this? None other than Extreme Makeover: Home Edition's Ty Pennington. He was missing his megaphone, but still yelled out his signature greeting – "Good morning, volunteer families!"
Ty brought out a few of our favorite Disney pals to help him with the unveiling… and Mickey handed him his missing megaphone! The balloons were raised, and we caught a glimpse of the world's largest structure of canned foods, made out of more than 115,000 assorted cans (I saw lots of tuna, salmon, and black olives!). It was only on display for a couple of hours, after which Disney VoluntEARS dismantled, sorted, and boxed up the food items, and loaded them onto a fleet of trucks. Representing over 70,000 meals, these goods will be distributed to food banks in central Florida, Atlanta, and Miami. You can find a video of the entire event at www.celebratevolunteers.com for a limited time.
From left to right: Tom Staggs, Walt Disney Parks and Resorts Chairman; Michelle Nunn, CEO of HandsOn Network; Neil Bush, chairman of Points of Light Institute (and George W.'s brother); his wife, Maria

And isn't Ty just the cutest? He looked so happy to be there!

Celebrate Volunteers dinner and concert
In the evening, we went back to Epcot for dinner and some fun entertainment, all to celebrate volunteering. Dinner was prepared by chef Robert Irvine of Food Network's Dinner: Impossible. There were stations with food and desserts inspired by the different countries in the world showcase – USA, Italy, Morocco, China, etc. There were bars set up. Tables scattered throughout. The food? Fire roasted heirloom tomato soup with basil foam and tiger shrimp; freshly tossed traditional cobb salad with foccacia stick; grilled free range chicken fried rice and stir fry vegetable lo mein with cilantro (in mini carry out boxes!); Mickey-roni & cheese; gyros (my fave!); barbeque short ribs; and apple crumble, brownie torte, tiramisu, cannoli, and cheesecake push pops for desserts. The episode will air later this year.
After dinner, Hollywood Records recording artists and Disney Channel stars Joe Jonas and Demi Lovato premiered a new song that they recorded for Disney's Friends for Change: Project Green and that will be featured in the upcoming Disneynature film OCEANS (in theaters on Earth Day). Make a Wave will be available for dowload on iTunes in March. Below are photos I took, and a video of the performance, courtesy of InsidetheMagic. As the lyrics of the song say – "Just a pebble in the water can set the sea in motion, a simple act of kindness can stir the widest ocean…" Even a small act can make a wave.

Video courtesy of InsidetheMagic.
Come back tomorrow for Day 2 of the Social Media Moms Celebration!